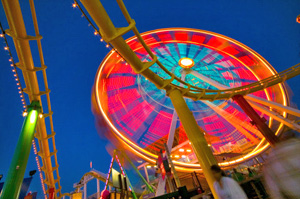 Santa Monica is a beautiful beachside community that is entertaining yet relaxing. On a typical day, a visitor could make a trip to over 70 art galleries, go out to a fun nightclub, lay out on a gorgeous Santa Monica beach or hang out on the famous pier. The pier hosts an interactive aquarium to see Southern Californian sea creatures or be entertained by unique street vendors.
Santa Monica is the place to be when you are trying to find the latest LA's trends. A visitor can start off at the Santa Monica Place, which is a beautifully renovated mall that has high end shopping or a visitor can venture off on the Third Street Promenade that has luxury and affordable shops. Santa Monica is ideally located near Rodeo Drive in Beverly Hills, Brentwood and other upscale cities near by.
Eating amenities never fall short in this town with luxurious ocean view restaurants to hip eateries throughout the city (Wilshire Blvd, Santa Monica Blvd, Main Street, etc). There is a fantastic selection of cool coffee shops to enjoy an afternoon cup of coffee.
With perfect weather, you could simply spend your entire vacation on the beach with many activities such as surfing, playing volleyball, running, biking or soaking up the sun!
Properties Coming Soon!
Sorry, no properties found - try expanding your search, or view all.