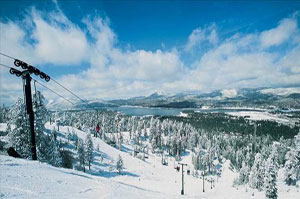 Big Bear and Lake Arrowhead are both located in the San Bernardino Mountains that are in close proximity to Los Angeles.
Big Bear is the bigger of the two cities in a gorgeous mountain setting. This city has so many activities to offer that it has to be based off seasons! During the summer, adventures are endless. A traveler can hike, bike, fish, horseback ride, play tennis, go swimming in the lake, boating or just sun bathe by the lakeside! There is a challenging 9 hole golf course along with a family fun 18 hole miniature golf course. Shopping and dining options are available at the downtown area called the Village. 5 minutes away from the Village are two fantastic ski slopes: Snow Summit and Bear Mountain Resort. These two slopes fit the needs of any experienced or inexperienced rider!
Lake Arrowhead is a more exclusive sister town that gives a quieter community setting. Lake Arrowhead has a darling business district called The Village, located off the lake to make over 50 dining and shopping options conveniently and easily accessible from your boat.
Properties Coming Soon!