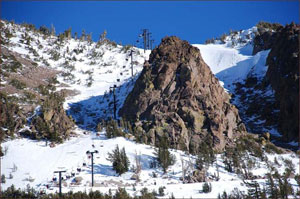 Mammoth Mountain is an outdoor lover's paradise. The mountain makes it easily accessible by car and airplane with an airport 10 minutes away. The summit is around 11,000 feet elevation with pristine winter and summer views of the Inyo National Forest.
If you are visiting during the winter, then the mountain offers a wide variety of options of how to enjoy your time: skiing, snowboarding, sledding, or even a scenic dining experience on the Snowcat! There are seven snow parks and three half pipes to meet anyone's level experience. Don't forget that there are other options to play in the snow such as dog sledding, ice skating or just enjoying the mountain as a winter wonderland.
Or if you were visiting during the summer, there are endless adventures with golfing, horseback riding, fishing, and hiking. A two hour drive away is the famous Yosemite National Park. Conveniently there is a transit that leaves Mammoth Mountain and takes you to Yosemite! During both seasons, there is a great nightlife, abundant dining options, and fantastic shopping.
Properties Coming Soon!