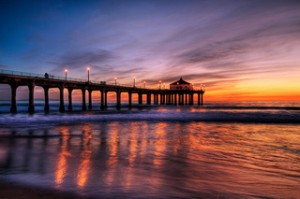 Manhattan Beach is upscale beach community located on the southern coast of the Los Angeles County. This beautiful beach town has an abundant of luxurious homes that will match the need of any traveler to this paradise.
Closer to the beach, there is a quaint downtown area that caters to the shopping enthusiasts, food lovers and an occasion bar here and there for a quick drink. If you head west on Manhattan Beach Blvd, it will lead you to the famous Manhattan Beach Pier that has working aquarium at the end of the pier. You can meet and greet with local sea creatures!
Manhattan Beach has a pristine beach is that home to beach volleyball and surfing. Annually during the summer, Manhattan Beach is the host to the volleyball tournament, The Manhattan Open and the International Surf festivals along with many other events. For more recreational activities, a visitor can run, bike, roller blade or walk along the strand to take in the beautiful views of the Pacific Ocean.